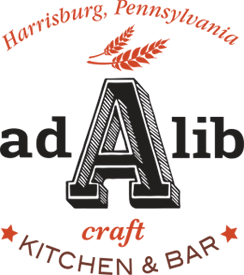 Be Spontaneous
At the Hilton Harrisburg, Ad Lib is the traditional American Tavern, reinvented. Our menus give you a chance to celebrate spontaneity, meet new people, and have a great time. Ad Lib is a place for everyone to share food and share stories, whether you're an overnight guest or a neighbor just dropping by. A strong emphasis is placed on locally produced food and beer. The service and decor, like the food, are comforting, simple, and unpretentious.
Food and drink offerings are old favorites "turned on their side" and full of surprises. We combine classic preparations with contemporary creativity. You can try many dishes in one visit with the large offering of small plate options. Choose from small plates, wines by the glass, selections of beer and an ever-changing list of craft, barrel aged and edible cocktails. Go ahead. Be spontaneous.
Call 717-237-6419 or click here to make reservations!
Our Offerings
Breakfast
There's something for everyone during breakfast at Ad Lib. Choose hearty combinations like our Braised Pork Wrap or lighter fare including our Grain Bowl.
Lunch
Whatever your appetite, Ad Lib's lunch menu has you covered. Choose from snacks, salads, sandwiches and entrees that epitomize the concept of familiar favorites, turned on their side.
Dinner
Gather with friends, round up your family, and celebrate spontaneity with our extensive menu of small plates, wines by the glass, dozens of beer choices, and an ever-changing selection of craft, barrel-aged and edible cocktails.
Dessert
Satisfy your sweet tooth with our decadent house-made desserts each made unique with our chef's creative take on familiar favorites
Sunday Brunch
We offer a huge selection of a la carte brunch items! Make-your-own Bloody Marys with over 30 add-ons, including an optional Raw Bar, our not yet famous complimentary Monkey Bread, plus Live Entertainment make it the best brunch in Harrisburg.
Craft Cocktails
An ever-changing list of craft, barrel aged and edible cocktails designed by Harrisburg mixologists. Our cocktails feature the freshest seasonal ingredients blended with care and creativity. Whether grabbing a quick drink after work or making a night of it, Ad Lib offers fun, fresh cocktails for every taste.
Private Events
Looking for a fun, exciting private breakfast, lunch or dinner party for your corporate event or special family occasion in Harrisburg, Pennsylvania? Contact Ad Lib! Having a private event at Ad Lib is a unique experience customized to your needs.